Description
Brand: 10L0L
Applicable Models: Golf cart charger 2 prong crowfoot handle plug replacement, fits up to 0.4 inch diameter charging cable Fits 36 Volt Yamaha G1, G2, G3, G5, G8, G9, G14, G16 1979-2002 models charger; Fits 36 Volt Club Car models charger; Fits 36 Volt pre-1983 EZGO models charger; Golf cart 2 prong crow foot charger plug fits 36 Volt Club Car, and other 36 volt systems with crowfoot charger plug: Harley-Davidson 1965 to 1981 Lester Charger, Columbia, Melex, Legend, Noland, Nordskog, Westinghouse, Pargo, Taylor-Dunn, etc.
Product Size: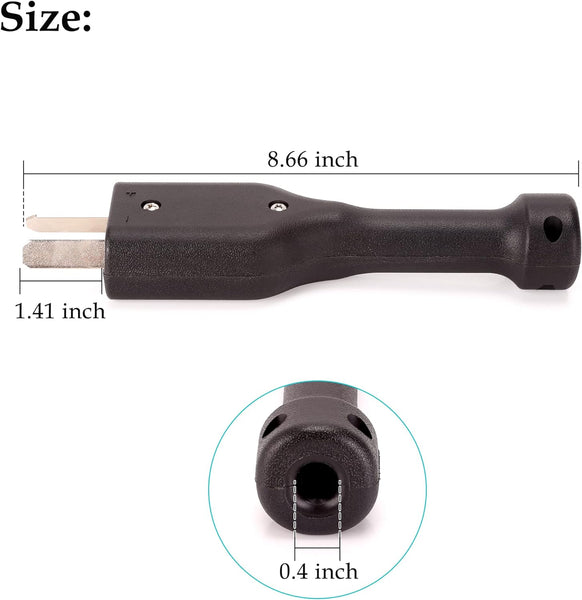 NOTE: Products with electrical plugs are designed for use in the US. Outlets and voltage differ internationally and this product may require an adapter or converter for use in your destination. Please check compatibility before purchasing.
【High Quality】This golf cart charger plug and receptacle kit is made of high-quality materials. It has great heat resistance, wear resistance, insulation and longer service life than most products in the market. It is not easy to deform even if it is used for a long time.
【For Safety】If your changer socket or plug of EZGO Yamaha Club Car golf cart has poor contact or the charging speed is very slow or even does not charge, it will not only affect your travel, but also cause potential safety hazards. For the sake of safety, it is recommended to replace our new charging socket and plug.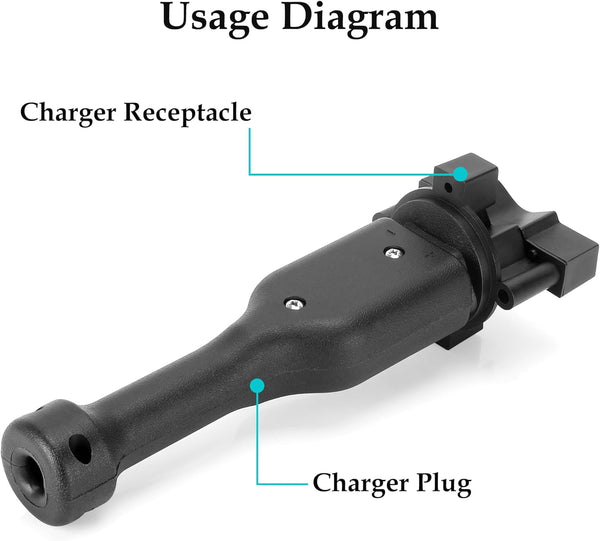 【Advantage】Our Golf Cart charger plug and socket have faster charging speed and runs more smoothly, improving charging efficiency and use range of the charging device. Easy to install, after installation, please check whether the screws are tightened.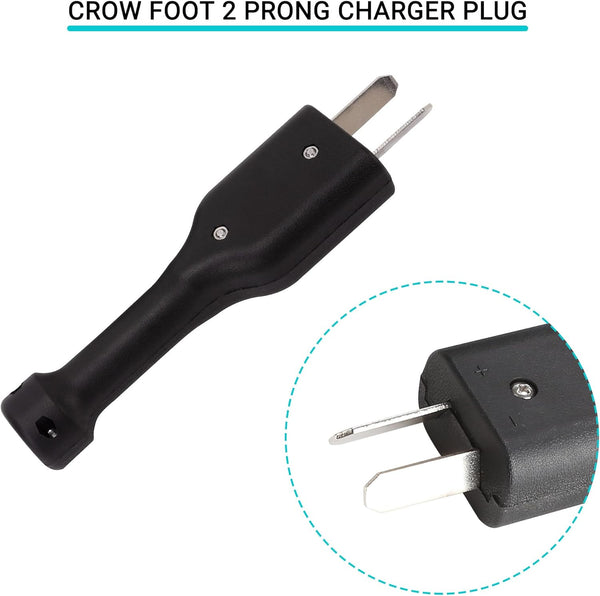 【100% After-Sales Protection】 All products in the store, we provide 1 year warranty service,if you receive the product has any defects , we provide free replacement or refund!24 hours online customer service, please feel free to contact us!!!
Installation: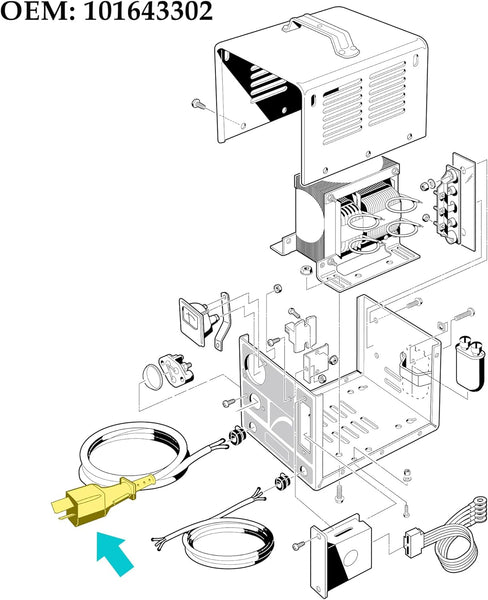 Key Features:
Universal Compatibility: This charger plug is a one-size-fits-all solution. It's compatible with EZGO, Yamaha, and Club Car golf carts with a 36V voltage system. No more worries about finding the right plug for your specific cart.

Easy Replacement: Swapping out your old charger plug for this universal one is a breeze. It's designed for a quick and hassle-free installation, so you can get back to enjoying your golf game in no time.

Durable Construction: We understand the importance of durability, especially in the world of golf carts. Our charger plug is built to last, ensuring that it can withstand the rigors of regular use on the golf course.

Reliable Connection: With this universal plug, you can trust that your golf cart will receive a reliable and stable connection when charging, helping to keep your cart's battery in top condition.

Peace of Mind: Don't let concerns about compatibility hold you back. With our Universal 36V Golf Cart Charger Plug, you'll have the peace of mind that comes with knowing you can charge your cart without any compatibility issues.
Upgrade your golf cart charging experience with the convenience of a universal plug. Whether you have an EZGO, Yamaha, or Club Car, this charger plug from 10L0L Golf Cart Accessories is your reliable and versatile solution. Get yours today and enjoy a hassle-free golfing experience!