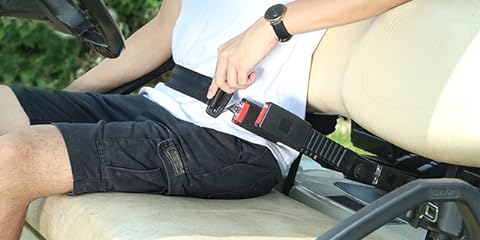 Golf carts are golf enthusiasts' right-hand assistants on the course. They play an important role in carrying clubs and players across the fairway. However, safety concerns surrounding golf carts have always been a concern, especially when golf carts are used on roads. With its original solutions, the 10L0L brand provides innovative methods for the safety of golf carts, making it possible for them to be legal on the road.
Golf cart safety challenges
Golf carts are typically designed for on-course use, and they differ from regular cars in that they typically do not come with
golf cart seat belts
, air bags or other standard car safety features. This makes golf carts a potential safety risk when driving on the road.
However, some golf courses are located in residential areas and players need to cross roads, which requires golf carts to be able to travel on limited roads and safety considerations need to be taken into consideration.
10L0L brand innovation
In order to solve the safety problem of golf carts, the 10L0L brand leads the market in innovation. They have developed a unique
golf cart accessories
harness system that can be easily installed on standard golf carts .
This harness system has been carefully designed and tested to ensure that players on the golf cart are properly protected while in motion. This not only improves the safety of golf carts, but also provides a reference for the legal use of golf carts on the road.
Why this innovation is so important
The importance of this innovation cannot be ignored. Not only does it allow golf carts to traverse roads more safely, it also gives golf course managers more opportunities to expand their courses to a larger area and attract more players.
In addition, this innovation also helps to improve the image of golf carts. It conveys to society that the golf community takes safety issues seriously and establishes a more positive image for the game of golf.
Conclusion
The safety issue of
golf carts
has always been a concern, and the original solution of the 10L0L brand provides an innovative answer to this problem. Their golf cart harness system not only increases golf cart safety, it also opens up additional opportunities for golf course managers. This innovation not only improves the image of golf carts, but also opens up more possibilities for the future of golf. As a result, we can expect to see more golf carts adopting this innovative harness system to provide players with a safer on-course experience.