Golf carts are not just a means of transportation on the golf course anymore. They have become a popular mode of transportation in various settings, including neighborhoods, resorts, and campgrounds. If you're looking to make your golf cart stand out from the crowd, there are plenty of accessories and modifications you can consider. In this article, we will explore eight ways to make your golf cart unique and eye-catching.
1. Custom Paint Job
One of the most effective ways to make your golf cart stand out is by giving it a custom paint job. You can choose a color that reflects your personality or opt for a design that makes a statement. From bold stripes to intricate patterns, the possibilities are endless. Hiring a professional painter or doing it yourself with the right tools and materials can transform your golf cart into a work of art.
Upgrading your golf cart seat covers is a simple yet effective way to add a personal touch and make it stand out. There are numerous options available, including a wide range of colors, patterns, and materials. Whether you prefer a sleek and modern look or a vibrant and playful design, you can easily find seat covers that match your style.Custom seat covers are a great way to add a pop of color or personality to your golf cart. You can choose from a variety of colors, patterns, and materials to find the perfect covers for your cart. Seat covers can also help to protect your seats from dirt, sweat, and sun damage.
Regular golf cart lights can be a little dull and boring. Upgrading to brighter, sleeker lights can make your shopping cart look more modern and eye-catching. Installing custom lights on your golf cart can significantly enhance its appearance, especially when riding at night or at night. LED lights are a popular choice because they are energy efficient, bright, and come in a variety of colors. You can add headlights, taillights, underbody lights, and even illuminated cup holders for a unique, eye-catching look.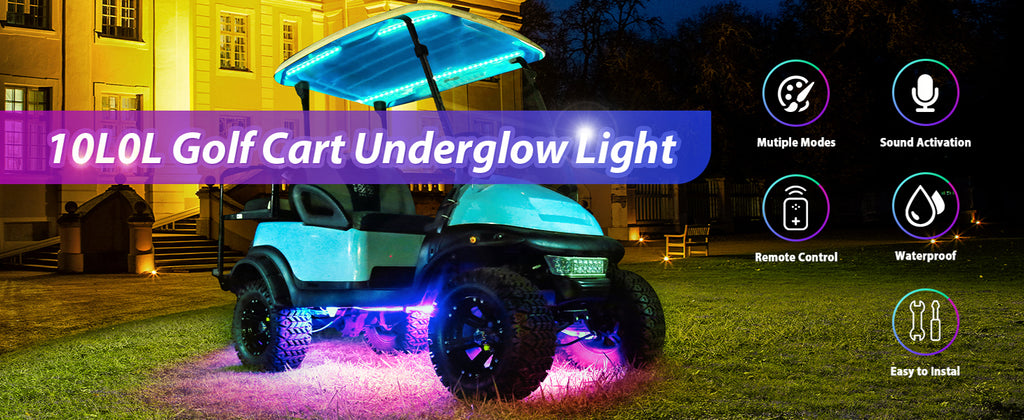 Another often overlooked accessory that can make a big difference is a custom steering wheel. Upgrading to a stylish and ergonomic steering wheel can not only improve your driving experience but also add a touch of luxury to your golf cart. Choose a steering wheel with unique materials, such as carbon fiber or wood grain, to make a statement.
5. Lift Kit and Off-Road Tires
If you want your golf cart to stand out both on and off the golf course, consider installing a lift kit and off-road tires. Lift kits raise the height of your golf cart, allowing you to navigate rough terrains with ease. Paired with rugged off-road tires, this modification gives your golf cart a more aggressive and adventurous look.
6. Golf Cart Wraps
Similar to custom paint jobs, golf cart wraps offer a temporary and customizable option to change the appearance of your golf cart. Wraps are vinyl stickers that can be applied to the body of your golf cart. They come in a wide range of colors, patterns, and designs, including camouflage, flames, and graphic prints. Wraps are a cost-effective alternative to paint jobs and can be easily removed or replaced when you want to change the look of your golf cart.
7. Unique Accessories
Adding unique accessories to your golf cart is a fun and creative way to make it stand out. Consider adding features such as a custom golf cart stereo system, a mounted cooler, or a personalized license plate. You can also install a roof rack or a cargo basket to carry extra gear or customize your golf cart with decals, flags, or personalized emblems.
8. Personal Touches
Finally, don't forget to add a personal touch to your golf cart to make it truly yours. This can include anything from adding your name or initials to the bodywork to attaching personalized keychains or decorations. You can also display your favorite sports team's logo or showcase your hobbies and interests with a variety of golf cart accessories.
Making your golf cart stand out is a fun and exciting process that allows you to showcase your unique style and personality. Whether it's through a custom paint job, upgraded seat covers, or the addition of eye-catching accessories, there are endless possibilities to personalize your golf cart. Remember to choose accessories that not only enhance the appearance but also improve functionality and safety. With a little creativity and some careful planning, you can transform your golf cart into a head-turning ride that reflects your individuality.