If you've ever played golf before, you'll know what a long time it will take. You hardly see the road if the sun starts to go down. So if you're looking for a way to keep your golfing experience at night, consider investing in LED golf cart lights!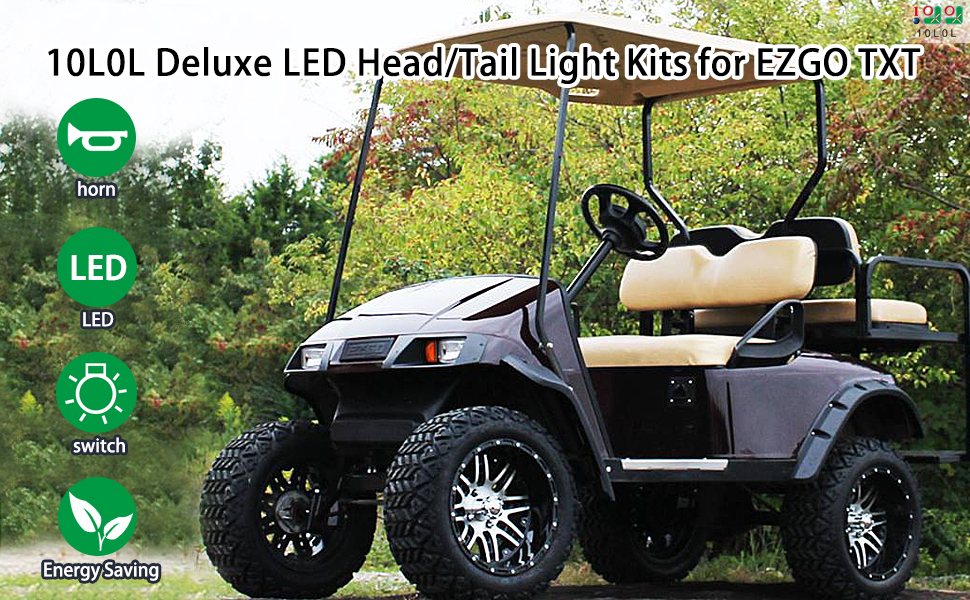 What are the benefits of the golf cart LED lights?
If you are looking for a way to improve your game experience on the golf course or just upgrade your cart, you should consider using golf cart LED lights. Here are some of the benefits of golf cart LED lights:
1. They Help You See More Clearly at night.
2. They Are Tough And Durable. They are made of ABS plastic, quartz glass, and durable material preventing damage from impact. The headlight lampshade is made of high transparent and high-strength glass and has strong light transmission; Headlights and tail lights are bright LED and have a long service life.
3. They Are Safe To Use and Cost-Effective. You can drive your golf cart after dark and keep safe!
4. Upgrade Kit: These LED lights are stylish and perfect. From lights to turn signals, to hazard flashers, and even the horn, Surprisingly bright led headlights and tail lights. They all work great for you.
What should these lights be used for?
There are many applications for LED golf cart lights, but the most common is to use them as turn signals. LEDs last much longer, so they can be used repeatedly without having to change the bulb. They also emit a bright light that is easy to see, even in low-light environments.
Golf cart LED lights are also useful when driving at night or in dimly lit areas. They emit a constant light that doesn't flicker like traditional headlights or taillights. This makes it easier to see in all conditions and reduces the chance of getting into an accident.
Golf cart LED lights are also perfect for displaying safety hazards in your path. By using bright LED lights, you can make it easier for other drivers to see and avoid these obstacles.
However, pay attention: If you possess a cart with 48v or 36v like EZGO Golf Cart or any other golf carts, you must need a 48V-12V or 36V-12V reducer. If not, the led light will be burnt out.
Conclusion
Not only can golf cart LED lights improve your sight at night, but they are also energy-efficient and long-lasting. Whether you are in the market for new golf cart lights or need to replace old ones, be sure to check out 10L0L and find the right light for your needs.