When it comes to driving a golf cart, staying aware of your surroundings is vital. With the right accessories, like golf cart mirrors, you can remain safe and in control. This blog article discusses the functions of golf cart mirrors.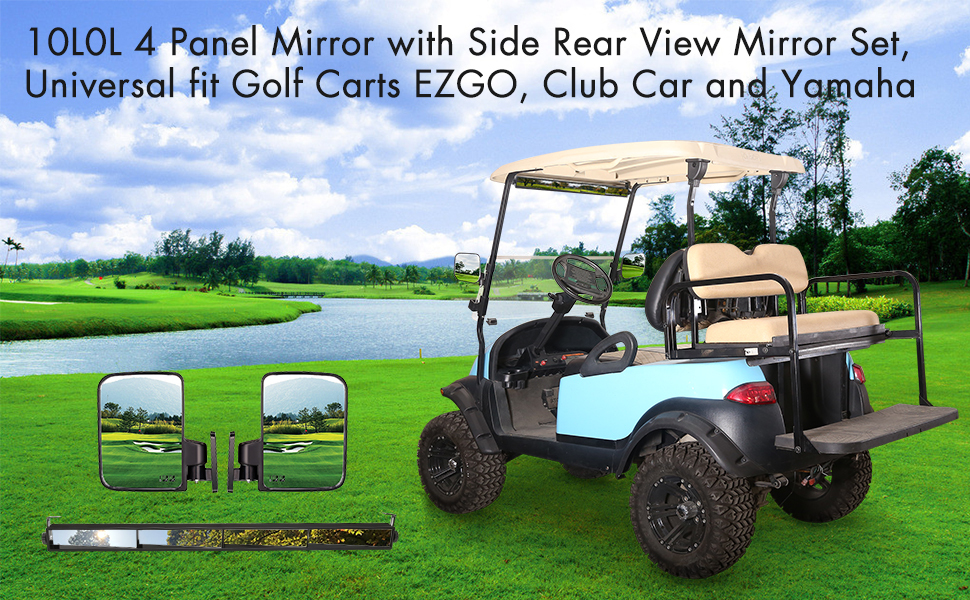 Functions of Golf Cart Mirrors
Golf cart mirrors are a must-have for any golf cart owner. Here are some functions of a golf cart mirror:
-A golf cart mirror is an essential part of your golf cart. A good golf cart mirror will help you see obstacles in the way while driving. The function of a golf cart mirror is to improve your visibility while driving, so you can make better decisions when playing golf.
-A golf cart mirror should also be adjustable to fit different drivers. Many have a telescoping feature that allows it to grow as the driver's height increases or decreases. This feature ensures that the mirror is always in the best position for seeing around it while driving.
-The golf cart mirrors also offer a clear view of the surrounding area, so you can stay safe while driving. Good golf cart mirrors are made from durable materials, so they can withstand years of use. They are also easy to clean and maintain, so you can keep them looking their best. If you are looking for a new golf cart accessory, consider purchasing a golf cart mirror. Not only will it be helpful for your driving, but it will also make you look cool!
Tips for Maintaining Golf Cart Mirrors
There are a few things you can do to help keep your golf cart mirrors in good shape. Here are a few tips:
-Wipe down the mirror with a clean cloth regularly. This will help remove any dirt, dust, or rain that may have accumulated on the surface.
-If the mirror appears to be foggy or has spots or streaks appearing on it, first try spraying it with glass cleaner and then wiping it off. If that doesn't work, you may need to take it to a professional for cleaning.
-Avoid hitting the mirror; this will damage the mirror and cause distortion.
Conclusion
If you own a golf cart, then you know how important it is to have reliable mirrors while you are driving. Make sure that the mirror you choose is sturdy enough to withstand the wear and tear of regular use, and that it has a good view so you can see more clearly the area behind you without turning your body. 10L0L covers a wide range of golf cart mirrors, including universal golf cart 5-panel mirrors, 4 panel rear view mirrors, folding side mirrors and more. Whether you own EZGO, Yamaha, or Club Car golf cart, you can find your perfect golf cart mirrors here.