When it comes to finding the perfect fender flares for your golf cart, there are many different types of materials that you can choose from. You also have a lot of different styles to choose from - some are sleek and others are more rustic, some are made out of metal while others are made out of plastic. This article will offer a rundown on the 10L0L brand's top-selling fender flares.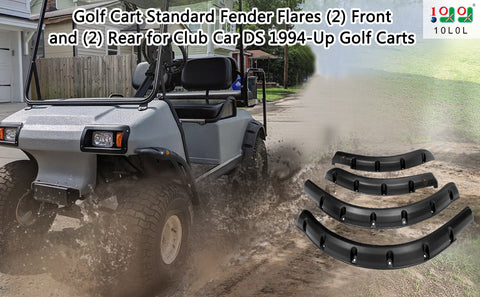 Features of Golf Cart Fender Flares From 10L0L
10L0L's Golf Cart Fender Flares are the perfect way to protect your cart's tires and keep your golf cart looking great. Our flares come in a variety of colors and designs, so you can find the right flare for your vehicle and your course. In the following, there are some features of golf cart fender flares from 10L0L:
Tough & Durable Enough: Made of durable injection-molded, impact-resistant black ABS plastic with a textured finish. Protect your vehicle from road and weather abuse with these ecotric fender flare sets.
Stylish & Upgraded Appearance: Custom designed to fit your cart's body, give your cart more style and upgraded three-dimensional appearance.
Equipped with round reflectors: About the reflectors, all of the 10L0L Golf cart fender flares are with round reflectors.
Accessories upgrade:10L0L golf cart trim fender flare set uses stainless steel screws & nuts, so it is strong to handle being installed without breaking, for a more secure look.
Easy and quick installation, drilling is required on the cart. All mounting stainless steel hardware included. Be careful, if you have aftermarket rocker panels, you may need to modify these to fit your cart.
What to Consider When Purchasing
When shopping for golf cart fender flares, there are a few things you should consider. First, you will need to decide what type of flare you are looking for. There are three types of golf cart flares: PVC, ABS, and PU. PVC and ABS flares are made of plastic and are the cheapest option. PU flairs are made of polyurethane and are the most expensive option.
Second, you will need to decide how wide your golf cart's fenders are. Most flares are about 2-3 inches wide. However, some flares are wider or narrower depending on the model.
Finally, you will need to choose a color. Golf cart fenders come in a variety of colors, so you can find one that matches your golf cart.
Conclusion
If you're looking to add some flair and style to your golf cart, 10L0L's offers a variety of fender flares that are sure to turn heads. From simple designs that provide just the right amount of coverage, to flashy designs that will make you stand out from the crowd. 10L0L focuses on golf cart parts and golf cart accessories mainly for EZGO Golf Cart, Club Car Golf Cart, Yamaha Golf Cart, and Gas Golf Cart. Get yourself a set of 10L0L golf cart fender flares today!