It is well-known that leaving your golf cart outside in the open without any cover or protection will speed up the damage to your cart. In today's day and age, the golf cart storage covers will be helpful to keep them clean and in the best condition. This article will talk about the golf cart storage covers.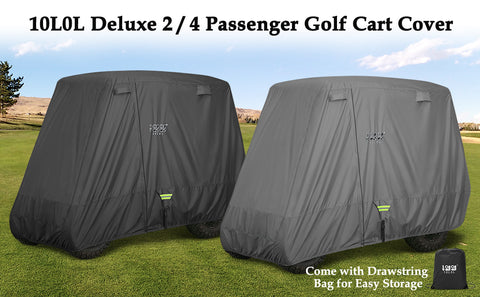 What are golf cart storage covers?
Golf cart storage covers are fully covered carts' bodies, mainly for cart storage. Some of the most common uses for golf cart storage covers include covering an unused golf cart while not in use, protecting a golf cart while stored in a garage or shed, and protecting an existing golf cart from weather damage.
Why should I use golf cart storage covers?
If you own a golf cart parking outdoors, you know that it can get dusty and dirty quickly. With the sun beating down on it all day, your cart can easily become covered in a layer of dust and dirt. Fortunately, golf cart storage covers can help protect your cart from the elements.
If you're concerned about the protection your golf cart storage cover provides, consider buying one that is waterproof. A waterproof cover will keep your cart clean and free from rust and corrosion, no matter how often it rains or gets wet.
How to choose the right cover for your golf cart?
There are a few things to consider when choosing the right golf cart cover for your outdoor cart.
Size: The first thing to consider is the size of your golf cart. Make sure to measure the width and height of your cart before shopping so that you know which cover will fit without buying the wrong model. Some suppliers provide finished storage covers for famous golf cart models like EZGO Golf Cart, Club Car Golf Cart, and Yamaha Golf Cart.
Material: Next, you need to decide on the material of your cover. While there are a variety of materials available, high-density polyester is probably the most popular because it's more wear-resistant and tear-resistant, especially in high winds. Make sure that the material of the cover you choose is resistant to moisture and weather conditions.
Fit: Once you've chosen the material and size of your cover, make sure that it fits your golf cart perfectly. Many covers come with adjustable straps or Velcro so that they can be fitted snugly onto your cart. Then it can provide full protection to your golf cart.
Conclusion
When storing your golf cart, 10L0L waterproof and dust-proof golf cart covers can prevent your cart covered in a film of dust or leaves, and reduce wind lifting and inside moisture. Whether you own a Club Car, EZGO, or Yamaha golf cart, you can find a highly matched golf cart enclosure or golf cart cover here.