Safety is a key concern for people. The article discusses the new golf cart seat belts, which are designed to keep golfers in their seats when driving a golf cart. Read on if you are looking for golf cart seat belts.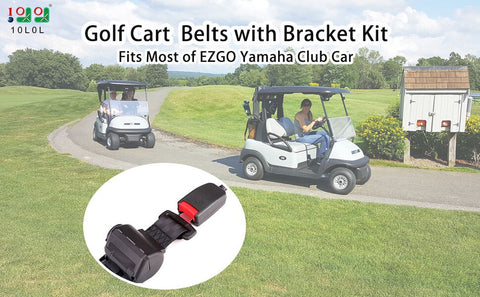 What is a Golf Cart Seat Belt?
A golf cart seat belt is a type of restraint device that is typically used on golf carts. It is a belt that wraps around the occupant's torso and attaches to the seat in the cart. Golf cart seat belts were originally designed to prevent people from being ejected from the golf cart in case of a crash. However, they are also used to protect occupants in other situations, such as when the cart overturns.
Golf Cart Seat Belt From 10L0L
10L0L has provided seat belts that will safeguard your life in a golf cart. This belt is made from lightweight, durable materials and it's adjustable to fit everyone. It also has an emergency release function that allows you to get out of the cart if there is an accident.
Good quality: 10L0L golf cart seat belts are good quality. Their golf cart seat belts have passed American DOT certification. In addition, they can make your golf cart legal for street use in your city.
Retractable Belt Length: 10L0L golf cart seat belts are solidly made, work well, the belts can retract 42 inch, It could be mounted on the front or rear seat. Some drilling or bracket may be required.
Easy Installation: Did not have to drill holes, everything attached very easily, Bracket is not included, Check for Need for Bracket.
More universal: 10L0L golf cart seat belts are a universal retractable seat lap belt kit for most golf carts like Yamaha golf cart, EZGO TXT RXV, Club Car DS Precedent, Go Kart, UTV, and more.
Conclusion
It is reported that by wearing a seat belt while riding in a golf cart, you can reduce your risk of injury or death by up to 90%. Therefore, if you need, welcome to contact 10L0L for the assistance you might need.