If you're looking for an affordable and uniquely designed golf cart enclosure, we highly recommend checking out these golf cart enclosures from 10L0L. They are great for those who are looking for enclosures with cold resistance. But why you should consider investing in them? Read on!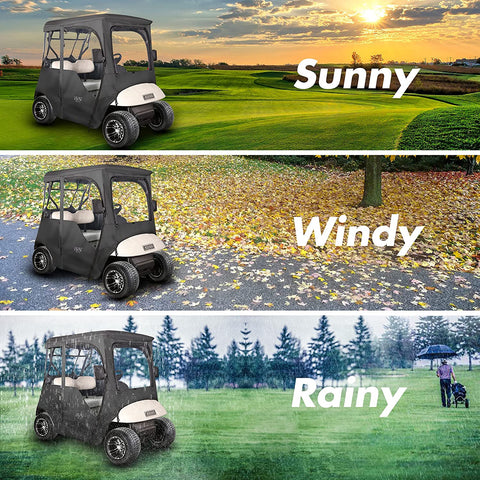 Features of a Golf Cart Enclosure from 10L0L
If you're looking for a way to protect your golf cart from the elements and keep your gear safe, a golf cart enclosure might be just what you need. Here are some of the features you may need:
-Keep warm in the cold weather: This enclosure works exceptionally well to keep your cart dry inside, not only prevent rusting and corrosion, but also to protect you from wind/rain, keep you warm in the cold without the need for a heater, let you enjoy golf with no worry. There is no doubt that it is a must-have enclosure.
-Made of 600D high density& heavy duty Oxford Cloth, an inner used PU layer, enhances the strength of tear and rainproof protection, The enclosure's top roof adopts a curved, aerodynamic design, making the whole enclosure naturally cover the cart top roof.
- Easy to put on and take off: The golf cart enclosures are easy to get on or take off. No tools are required and it is easy to set up and take off, only needs minutes to be fully assembled.
Conclusion
Golf carts can be great for short-range travel, but they don't always provide the best protection from the elements in the winter. If you're looking for a way to keep your golf cart in good condition while also preventing the cold in the winter, check out these unique golf cart enclosures from 10L0L. Some of them are even adjustable to fit different types of golf carts, so you can be sure that your vehicle will be well-protected no matter what. in addition, 10L0L provides various models for different golf carts, such as the EZGO golf cart, Yamaha golf cart, and more. So come to contact us for more information!