When it comes to protecting your golf cart from UV or other elements, there's nothing quite like the essential golf cart enclosure. Read this blog article to find out more about golf cart enclosures.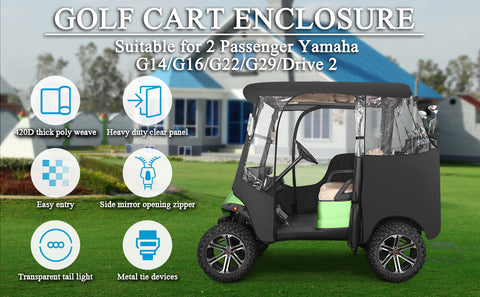 Functions of Golf Cart Enclosures
If you're looking for an economical way to protect your golf cart gear, a golf cart enclosure is a great option. Here are three reasons why you should invest in one:
1) Cold Resistance: When the temperatures start to dip, you don't have to leave your golf cart in the garage. You can continue to drive by investing in a golf cart enclosure. Golf cart enclosures keep you warm in the winter by trapping heat and deflecting cold winds.
2) Enhance Performance: With a golf cart enclosure, the performance of a golf cart can be greatly improved because the enclosure fits snugly around your golf cart to minimize road noise and vibration. An enclosure also offers protection from the sun and rain, which can enhance the performance of your golf cart.
3) Free from scratches: The golf cart enclosure is the perfect accessory for anyone who enjoys golf. Not only does it protect your golf cart from scratches, but it can also help to keep your golfing equipment clean and free from debris. In addition, By changing the enclosure, can refresh the look of the golf cart.
Where to buy
10L0L is one of the leading suppliers of golf cart enclosures. They offer a wide range of options, from standard enclosures that fit some famous golf cart models like Yamaha Golf Cart to large enclosures that can fit extended or modified cart roofs. If you're looking for a golf cart enclosure that will keep you warm in the winter, look no further than 10L0L. Our enclosures are specifically designed to withstand the cold weather, so you can enjoy your driving no matter what the temperature is outside. Here are just a few of the reasons why you should choose 10L0L for your next golf cart enclosure:
We use only the highest quality materials in our enclosures, so you can be sure they'll last.
Our enclosures are easy to install and remove, so you can put them on or take them off as needed. The foldable enclosures are lightweight and very easy to put on (and remove) the golf cart. Very simple for one person and requires no tools or vehicle modifications.
Our team is passionate about providing excellent customer service, so you can always expect a positive experience when working with us.
We offer a variety of different styles and designs to choose from, so you can find the perfect one to match your golf cart (and your personality).
We offer a 100% satisfaction guarantee on all of our products, so you can be confident that you're making a wise investment when choosing 10L0L.
Conclusion
To conclude, with 10L0L golf cart enclosures, you can shield your vehicle from inclement weather! When driving your golf cart, 10L0L golf cart enclosures can shield it from more than just dings and other weather-related damage. Therefore, if you are looking for high-quality enclosures, you can't miss the 10L0L.