There are many benefits to own a golf cart. When you get your golf cart, you'll want to make sure you have everything that comes with it. That includes the fender flares for the front and back of the golf cart, which provide more coverage and protection for your golf cart's wheels.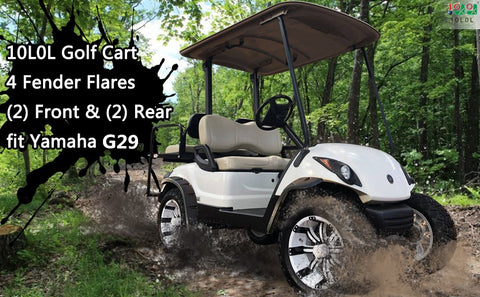 What are Golf Cart Fender Flares?
A Golf Cart Fender Flare is a metal or plastic add-on that attaches to the front and rear wheels of your golf cart and helps keep the cart from dirt, stones, and other debris from tires. Therefore, these fender flares can help keep you safer on the road, and can also improve your driving experience.
The Benefits of Golf Cart Fender Flares
When it comes to adding customization and protection to your golf cart, a fender flare is an excellent way to do so. Fender flares can block some damage to your cart's tires, while also improving its safety. Here are some of the benefits of using a fender flare on your golf cart:
Fender flares add a touch of fashion to your golf cart. With their sleek, polished appearance, custom-made to match your cart's body, these accessories give your cart a more stylish, modern look.
Fender flares improve safety on the road. By increasing the width of the cart's frontal area, fender flares help to increase the overall safety of your vehicle. In addition, they can also help to reduce wind resistance, making your golf cart much more responsive on the road.
Conclusion
If you're looking to add a little bit of style to your golf cart, then a fender flare might be the perfect solution. Not only do they look great, but they also provide some extra protection against road debris and weather conditions. If you're looking for a Golf Cart Fender Flare,  10L0L has a variety of options available, and be sure to check out our selection of the best options available online. Whatever your golf cart is EZGO Golf Cart, Club Car Golf Cart, Yamaha Golf Cart, or Gas Golf Cart, 10L0L will meet all of your demands.