This golf pen holder is a great option for anyone who loves golf, and it's adorable as well. If you want to learn more information about golf pen holders, this article will be helpful for you.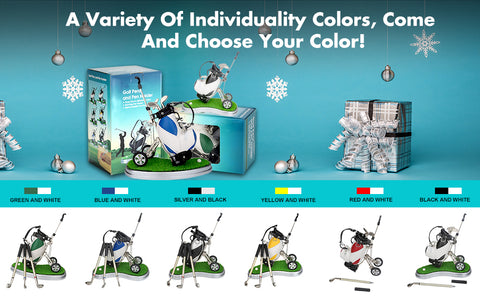 Types of Golf Pen Holders From 10L0L
Looking for the perfect golf gift? 10L0L has the perfect option for you – a golf pen holder! This handy accessory can keep your golf club pens organized and easy to access. There are different types of golf pen holders to provide:
Mini Desktop Golf Bag Pen Holder: 10L0L golf pen holder, unique golf desk accessories, The size is just one man's hand can hold, Golf bag made by soft PU leather, and also has one small zipper storage area. In addition, the golf bag pen holder includes 3 different ink pens, made like Golf Club shapes, the 6 " L " driver has red ink, the 5.75" L " putter has blue ink, and the 5.75" L" wedge has black ink. Cool Metal Texture, High-end atmosphere on the grade, this mini golf bag pen holder is a unique gift for Golfer fans.
Great golf desk decor and office decor for man, Golf Course Style Pen holder base with fresh grass color, very novelty, and unique Office Desktop Model, Golf gift for Father's Day, Birthday, Christmas or New Year, etc.
Mini Desktop Golf Ball Pen Stand: They are the perfect golf gift, birthday gift, Christmas gift, souvenir, office gift for the dedicated golfer, golf fans, husband, dad, child, boyfriend, etc. In addition, an Electric clock is inlaid on the ball, convenient for people to check the time, and also a nice decoration on your desk. This product uses a 0.3 pressure refill for smoother writing. no spilling ink; Great Giveaway Souvenir for any Events and Tournaments or Office or Club Matches.
Golf Pen Holder with 3 Pieces Golf Club Pen: Golf pencil holder with 3 Pieces Aluminum Golf Club Pen Set is a gift or Souvenir for men golf lovers golfers fans bosses or boyfriends. There are three different golf club ink pens. This Golf Bag pen holder has 3 quality aluminium alloygolf club ink pens and plastic green. The 6" L driver is red ink, the 5.75" L putter is blue ink and the 5.75" L wedge is black ink. The unique golf club pen decor your office's desk.
In addition, this kind of golf pen holder is a moveable golf cart handle. Adjustable to suitable for any desk flat by the simulated golf cart handle, as well as working rubber wheels. The Unique golf pen holder also can be a golf desk accessory, making it a good decoration for the office and home.
Conclusion
If you're looking for the perfect gift for golf enthusiasts, consider getting a golf pen holder from 10L0L which is a global online-sale brand focusing on golf cart parts and golf cart accessories, mainly for Club Car golf carts, EZGO, Yamaha. Plus, 10L0L also has a popular Armrest cover, side mirrors, rear mirrors front, or Rear seat covers for your choice. If you are interested, welcome to shop in our online store!