A golf pen holder is a useful piece of equipment that can be a gift or Souvenir for men golf lovers golfer fans boss or boyfriends. In this blog article, you will learn about what is a golf pen holder and more information about it.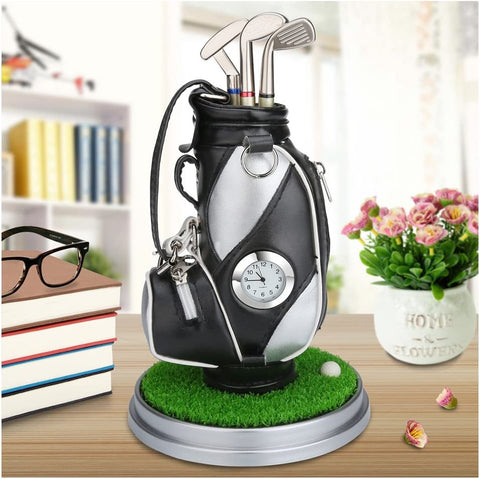 What is the Golf Pen Holder?
A golf pen holder is a unique golf desk accessory. It is typically a small, lightweight item made from soft PU leather. It is a great golf desk decor and office decor for men, Golf Course Style Pen holder base with fresh grass color, very novelty, and unique Office Desktop Model, Golf gift for Father's Day, Birthday, Christmas or New Year, etc. The golf pen holder comes in many shapes and sizes and there are several different brands available. One of the most popular brands is the 10L0L.
Features of Golf Pen Holder from 10L0L
If you're in the market for a golf pen holder, don't hesitate to check out 10L0L's selection online. We have a wide variety of options to choose from, so you'll be able to find the perfect one for your needs. There are some features of a golf pen holder you should know:
Convenient and compact: 10L0L golf pen holder, unique golf desk accessories, The size is just one man's hand can hold, Golf bag made by soft PU leather, and also has one small zipper storage area.
Moveable golf cart handle: Adjustable to suitable for any desk flat by the simulated golf cart handle, as well as working rubber wheels. The Unique golf pen holder also can be as a golf desk toy, novelty desk gift, Father's Day gift, Christmas gift, or a souvenir for dedicated golfers, golf fans, men, or boyfriends. The golf pen holder is a good decoration for the office and home.
Conclusion
This handy accessory can help to keep your golf club pens organized and make retrieving them from your desk much easier. If you need, 10L0L is Your reliable accessories supplier of golf carts, mainly for EZGO Golf Cart, Club Car Golf Cart, Yamaha Golf Cart, and Gas Golf Cart. Please be free to contact us!