If you're looking for what golf cart armrest is best for you and which one will be the most comfortable or easy to use? This blog breaks down some armrests from 10L0L and goes into choosing the best armrest for your particular needs.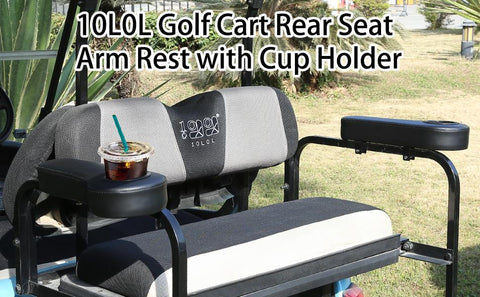 Features of Golf Cart Armrests from 10L0L
Looking for the perfect golf cart armrests? Look no further than 10L0L! They have a wide selection of golf cart armrests that are sure to please. Here are some unique features of armrests from 10L0L:
Long Lasting: High-density sponge and PU leather covering, upgraded thickened mesh plastic bottom plate, which is torsion-resistant, stable, and durable. The U-shaped bracket is better for load-bearing, not easy to tilt. It will not bend due to arm pressure.
Easy installation: No drilling required, including all hardware. Install it within 10 minutes. Simple to install and extremely sturdy and fits like a custom fit.
100% Breathable Polyester: Golf cart front seat armrest cover is made of a breathable unique diamond mesh weave, allows air circulation, and adds comfort when grabbed, which is very suitable for summer use. You won't make your armrests wet after you sweat.
What to Look For When Purchasing
When purchasing a golf cart armrest, it is important to consider both comfort and usability. There are a number of factors to consider when purchasing an armrest, such as size, shape, and material. Here are some tips to help you find the best armrest for your needs:
Size: Most golf cart armrests are adjustable, so it is important to find one that fits your individual needs. For example, you may want to choose an armrest that is shorter in height for your children.
Shape: Golf cart armrests come in a variety of shapes and sizes, so it is important to find one that is comfortable and fits your specific needs. For example, some armrests have padding on both sides for extra comfort.
Material: Armrests can be made from a variety of materials, including polyester. It is important to choose an armrest that is durable and comfortable. For example, some armrests are made from polyester with a soft sponge padding on top for added comfort.
Conclusion
If you're looking for a golf cart armrest that will not only make your drive more comfortable but also easy to use, then you should definitely take a look at the options from 10L0L. 10L0L golf cart armrest cover sets fit most golf carts, such as Club Car golf carts, EZGO, and Yamaha. It will work perfectly for the armrest. It has already reserved holes, no need to open holes for installation.10L0L provides different colors and styles to meet your demand. Welcome to shop!