The golf cart is often used as a means of transportation. While they're not in use, their seats are exposed to the elements, which can cause them to become extremely dirty and damaged quickly. Luckily, you can protect your seats from this with seat covers!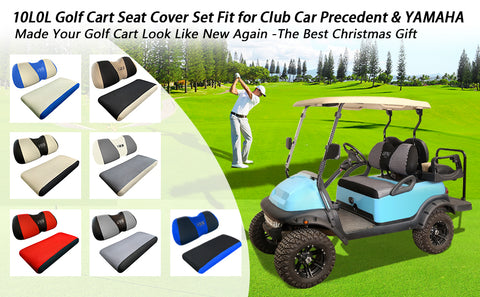 What is the Purpose of a Golf Cart Seat Cover?
There are many reasons why golf cart seat covers are necessary. Here are some main reasons:
Seat Cover Protector - If you don't plan to use the golf cart for a while, you can put this seat dust cover on to prevent dust accumulation. It will protect your seat or decorative seat cover from being soiled or scratched, and make your seat cover keep brand new.
Waterproof & Dustproof - This golf cart protective seat cover has a high level of waterproof and dustproof performance. It's also sun-proof and weather resistant to protect your golf cart seat for all seasons, making your golf cart seat look brand new all the time.
More comfortable - Seat covers are composed of supple, cozy materials. This means that golfers or passengers won't feel uncomfortable.
What to Look For Choosing Golf Cart Seat Cover
A seat cover can be a great addition to your golf cart, but it may be tricky to choose the right one. Here are some things to look for when choosing a golf cart seat cover:
- Fit - make sure that the seat cover fits your golf cart comfortably, both in terms of size and shape. It should also be able to protect your seats from wear and tear. Generally, you'd better choose the oversize, because oversize design to fit different models of golf carts like EZGO Golf Cart, Club Car Golf Cart, and so on. Plus it is better to protect your decorative seat cover. It will be larger than your seat to better cover the whole seat and provide better dust resistance.
- Durability - make sure that the seat cover is durable enough to withstand regular use. It shouldn't tear or fray easily, so make sure to pick one that's built to last. To achieve this, the seat covers from 10L0L are a nice option, providing high-quality products.
- Protection - make sure that the seat cover provides adequate protection against the elements. Not only will this keep you comfortable while you're driving, but it will also help keep your seats looking stylish.
Conclusion
To keep the golf cart clean and free from dust, it is important to cover the seats with a seat cover. Not only will this protect your golf cart from dirt and grime, but it will also keep you and your passengers comfortable during those long driving. Shop for a seat cover that fits your needs and enjoy spending time in your golf cart without worrying about dirt or dust getting into the seat! If you are interested, 10L0L will be glad to offer you the best service.