Choosing the best product for golf cart steering wheels is not always easy, especially if you're new to golf carts. With that said, here are some of the things to look into when deciding which golf cart steering wheel is right for your needs.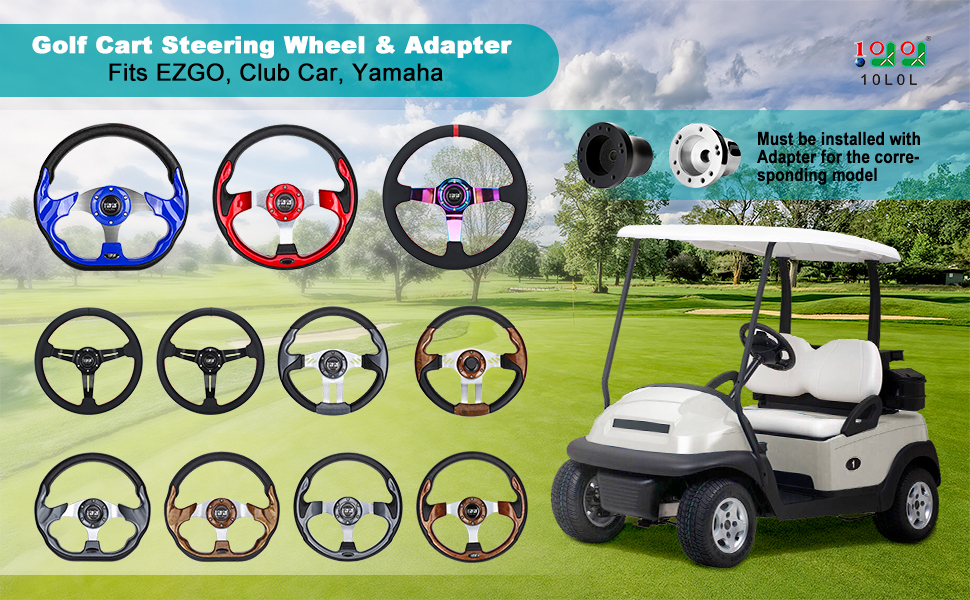 How to Choose the Best Golf Cart Steering Wheel
If you're in the market for a new golf cart steering wheel, there are a few things to consider. Here are three tips to help you choose the best one for your needs.
1. The first thing you'll want to consider is the size and weight of the steering wheel. Make sure it's comfortable to grip and doesn't require too much effort to move. A heavy steering wheel will make it harder to steer, while a small one will be hard to hold onto.
2. The second thing to consider is the material and design of the steering wheel. Choosing a strong and durable golf cart steering wheel can save you money and give you a more pleasing driving experience. For example, steering wheels developed by 10L0L are wear and corrosion-resistant for they are made from premium material. In addition, it's also important to choose a design that fits your style and personality. 10L0L provides many options, and you can definitely find one that you like and feel comfortable using.
3. Finally, factor in price and quality when choosing a new golf cart steering wheel. You don't want to spend too much money on something that won't be useful or durable, but you also don't want to buy something cheap that will break quickly. 10L0L adopts an ergonomic design for its steering wheels, which allows you to not get tired of driving for a long time. And luckily, its golf cart steering wheels are at affordable prices.
How to Clean and Maintain Your Golf Cart Steering Wheel
The golf cart steering wheel is one of the most important pieces of equipment on your golf cart. It needs to be kept clean and free from dust and debris so that it functions properly. Here are some tips for cleaning and maintaining your golf cart steering wheel:
- Keep a clean cloth handy to wipe down the wheel whenever it starts to get dirty.
- Use a mild soap and water solution to clean the wheel surface. Avoid using harsh chemicals or cleaners, as this could damage the wheel.
Conclusion
When it comes to choosing the right golf cart steering wheel, there are a few things to keep in mind. This guide has given you a list of considerations to help you make an informed decision about which golf cart steering wheel is best for you. With long-term experience and a professional team, 10L0L has developed a wide range of steering wheels that can fit most types of golf carts, such as EZGO Golf Cart, Club Car Golf Cart, and Yamaha Golf Cart. If you want to buy a new golf cart steering wheel, contact 10L0L!