If you are a competitive golfer, then keeping your golf cart protected from getting damaged is very important to you. However, finding the right enclosure for your golf cart can be hard if you don't know what type of enclosure will work best with your golf cart. This blog will talk about the benefits of golf cart enclosures and how they could improve your golf cart.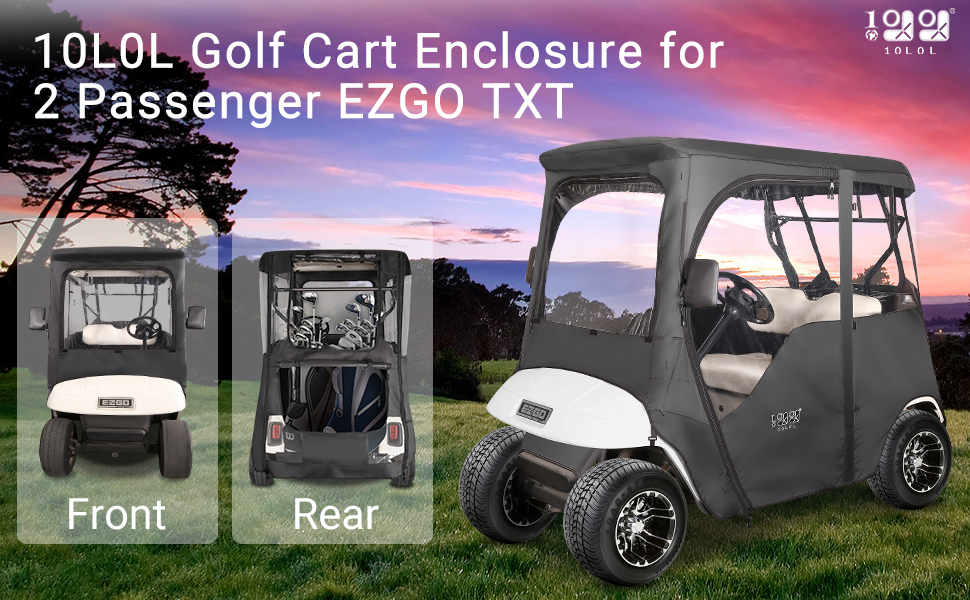 What is a golf cart enclosure?
A golf cart enclosure is a car cover designed to protect a golf cart from the elements. Golf cart enclosures come in many different styles and can be tailored to fit almost any golf cart. They are also available in various colors and designs, making it easy to choose the perfect one for your needs.
The benefits of a golf cart enclosure
Here are two main benefits of upgrading your cart with golf cart enclosure:
1. All-Weather Protection. A golf cart enclosure will protect passengers from wind and weather conditions and other obstacles on the course. In Spring, this enclosure can stop bird droppings, leaves, dust, and scratch. In Summer, it can be used to prevent sun and UV. In Autumn, it still can stop leaves, dust, and small animals. Finally, in Winter, a golf cart enclosure also can protect your car from snow, ice, and frost.
2. More durability. Made of high-strength tear-resistant polyester with UV coating, it effectively prevents the sunlight from aging the golf cart, and the non-abrasive PVC lining won't scratch your cart. All stitching area with exclusive water-proof adhesive tape ensures many years of use and maximum tensile strength of up to 20 MPA, durable enough.
How to install an enclosure on your cart
If you're like most golfers, your golf cart is your best friend on the course. But don't let poor conditions keep you from caring for your loving golf cart. By installing an enclosure, you can protect your golf cart and make sure that it keeps looking new. Here are a few tips on how to install one on your cart:
1. Choose the right enclosure
There are many different types of enclosures, so it's important to choose the right one for your cart. For example, some enclosures do not fit extended or modified cart roofs. Therefore, you should choose according to your golf cart model before ordering. 10L0L provides a universal enclosure suitable for EZGO Golf Cart, Club Car, and Yamaha 2-4 passengers golf carts.
2. Plan the installation
Installation may be a daunting task for the most golfer. But 10L0L golf cart enclosures are easy to Install. It's a one-person job to put it on and take off. Integrated adjustable straps, and a retractable buckle, could securely and snug fit on the golf cart. Besides, 10L0L provides you with the detailed installation videos. You can easily install the golf cart enclosure by following the video guide.
Conclusion
Choosing the right golf cart enclosure can be a daunting task. There are so many options and variables to consider that it can be hard to know where to start. However, following these tips, you should have no trouble finding the perfect enclosure for your needs. If you are interested, 10L0L will gladly serve you!