For many golfers, the golf cart is a mode of transportation. It's an integral part of their life, and the lighting on these carts provides the mood for their day on the links. Therefore, this article discusses the added luxury that golfers can get by installing light strips on their carts.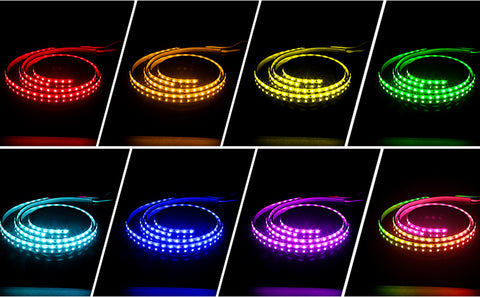 Introduction to the golf cart light strip
 Golf cart light strips are usually dressed up your golf cart for festivals like Halloween, Christmas, Thanksgiving, New Year, Valentine's Day, Independence Day, and so on. These light strips come in many different colors, such as red, green, blue, light blue, pink, white, and yellow. And they can add a touch of luxury to your golf cart. Plus, they're extremely easy to install. And if you ever lose or break one of these strips, no worries – they're also easy to replace.
Why use the golf cart light strip
Choosing to use a golf cart light strip is not only a great way to add extra safety while out in the dark but it can also be added as a luxury for your golf cart. Here are some reasons why you should consider using one:
-Adding extra visibility: A golf cart light strip will help you be more visible, whether you're driving at night or during dense fog.
-Aesthetics: Not only does adding a light strip give your cart an extra touch of luxury, or used for your golf cart styling modifications, making it fresher.
Features of golf cart light strip from 10L0L
10L0L is a global online-sale brand, which focuses on golf cart parts and golf cart accessories, mainly for Club Car golf carts, EZGO golf carts, and Yamaha golf carts. The following, there are some features of the golf cart light strip from 10L0L:
Smart wireless remotes control: 10L0L golf cart underglow lights match smart wireless remotes control to enhance user experience, you may enjoy four functions by pressing buttons: ON-Turn On, OFF-Turn Off, Music Mode, MODE-Switching Mode.
Colorful flow modes, 1 colorful fade mode, and 1 colorful cyclic flash mode, solid colors: Red, Green, Blue, light Blue, Pink, White, and Yellow.
Easily install: 10L0L golf cart LED lights to include 38.5"*2,24.5"*1,30.5"*1 4pcs waterproof & flexible LED light strips, you can bend to any shape, install under the car body.
Conclusion
So whether you're looking for a way to create a romantic, cheerful or enthusiastic atmosphere at festivals, birthdays, or anniversaries or just want to give your golf cart a little bit of extra pizzazz, a golf cart light strip from 10L0L is the perfect solution. If you are interested, welcome to contact us for a free quote.