It's not easy to find the right golf cart mirror. With so many manufacturers, it might be hard to figure out which one is best for your golf cart. In this blog article, we'll introduce some benefits of installing the mirrors with your golf carts and tips on deciding which golf cart mirror will work best in your situation!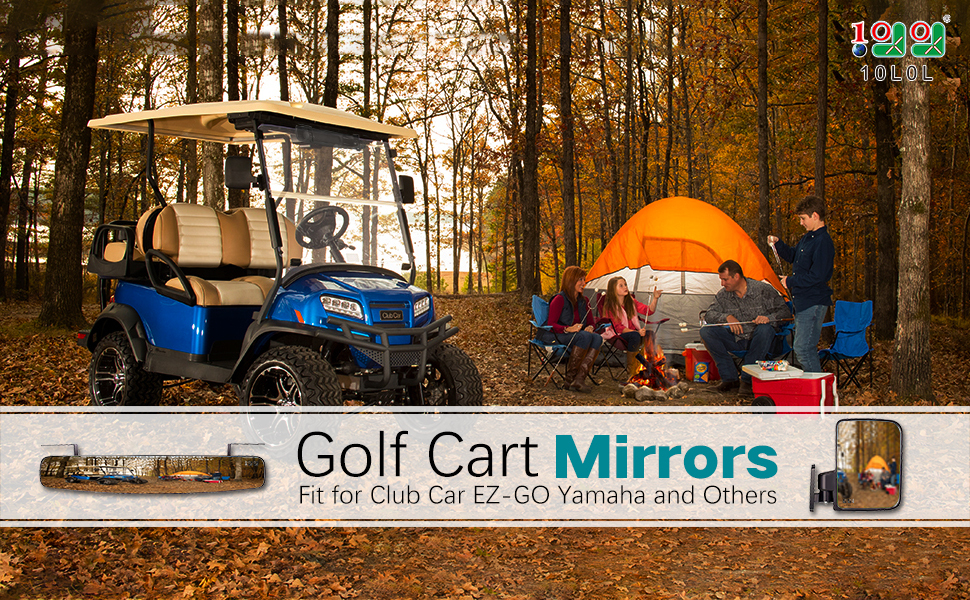 What are Golf Cart Mirrors?
Golf cart mirrors are a type of mirror mounted on the front or side of a golf cart used to help drivers see around corners and obstacles while driving.
What are the Benefits of 10L0L Golf Cart Mirrors?
10L0L is a trustworthy golf cart parts manufacturer focusing on golf cart parts and accessories like golf cart mirrors. Therefore, if you want to install the mirrors with your golf carts, such as EZGO Golf Cart, Club Car Golf Cart, Yamaha Golf Cart, and Gas Golf Cart, there are several benefits to using golf cart mirrors you should know. These include the following:
1. Clear view: 10L0L Golf Cart mirrors support a clear view and fastness. In addition, you can adjust the angle according to the height to help you watch every direction of your back.
2. High Quality: 10L0L Golf Cart mirrors are made in high-impact ABS housing with shatterproof tempered glass and iron bracket. The durable and high-quality material ensures long life and enhances the driving experience.
3. Widely used: 10L0L Golf Cart mirror fits most golf carts, such as EZGO, Club Car, and Yamaha.
4. Easy to Install: It will take 10 minutes to complete the job.
5. Street-legal: Golf cart mirrors are a must-have for street-legal golf carts, providing you with utmost safety.
How to Make the Right Decision Purchasing a Mirror
When choosing the right golf cart mirror, remember the following two tips.
1. Consider the type of mirror. There are different mirrors, such as side mirrors, rear view mirrors, 4-panel mirrors, and 5-panel mirrors. So it would help if you were clear before ordering.
2. Make sure to choose an adjustable mirror. This will allow you to find the perfect angle for viewing around.
Conclusion
This article aims to help you find the perfect golf cart mirror for your needs. Whether you're looking for a new mirror or just replacing your old mirrors, this guide will have what you are looking for. So don't wait any longer — get your golf cart with a 10L0L mirror and enjoy superb visibility today!