If you own a golf cart, you should know the importance of protecting it from scratches and indentations. But with so many golf car seats on the market, it can be hard to know what type of cover you need. This article will be helpful for you to learn about the Club car seat covers!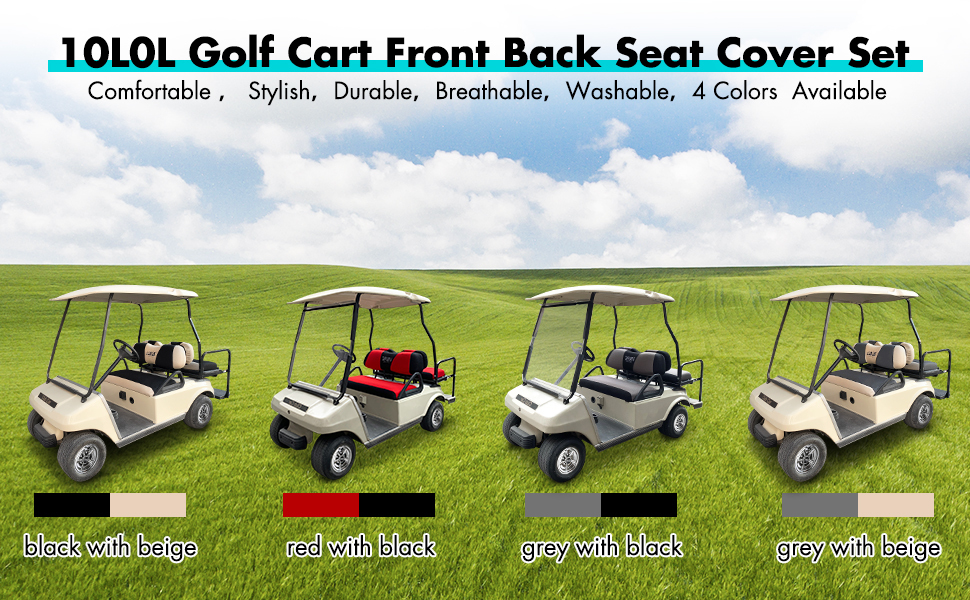 Benefits of using Club Car Seat Covers from 10L0L
The seat covers are a must-have accessory for a golf cart because car seat covers are a great way to keep your car looking clean and organized. 10L0L is a global online-sale brand focusing on golf cart parts and accessories. Here are three reasons we need to equip the seat covers with our golf carts like EZGO Golf Cart, Club Car Golf Cart, or Yamaha Golf Cart.
1. Waterproof, Dustproof, and Anti-scratch: Golf cart protective seat cover has a high level of waterproof and dustproof performance. It's also sun-proof and weather resistant to protect your golf cart seat for all seasons. In addition, it still can prevent dirt, wearing, scratches and indentations, making your golf cart seat look brand new.
2. High Quality: 10L0L golf cart seat covers are made from durable and comfortable breathable mesh and polyester with abrasion and tearing resistance. It also has good wrinkle resistance and shape retention and has high strength and elastic recovery ability. It is firm, durable, and wrinkle resistant, and hair does not stick to it easily, providing maximum comfort for your daily driving.
3. Widely Applicable: 10L0L provides different golf cart seat covers, aiming to fit different models of golf carts. If you need, 10L0L also can add a customized appearance to your golf cart.
How to take care of your Golf Cart Seat Covers
Your golf cart car seat covers are a big investment, so taking care of them is important so they last and protect your golf cart seat. Here are some tips for keeping your seat covers in top condition:
-Always ensure that the car seat cover is securely attached to the golf cart. To do this, we take to secure the bottom threaded installation.
-Avoid harsh chemicals or cleaning agents on the golf cart seat covers. These could damage the fabric. For example, if the cart seat cover becomes soiled, gently wash it with mild soap and water, or it can use as machine washable and then wait for the air to dry.
Conclusion
If you are still not wearing the right car seat cover for your club car, it's time to come to 10L0L to select one. Or are you unsure which seat cover to buy for your club car? Don't worry, and we have you covered.10L0L friendly experts will help guide you in the right direction.