If you are in the market for a new golf cart enclosure, this comprehensive guide will help you decide which one is right for your needs.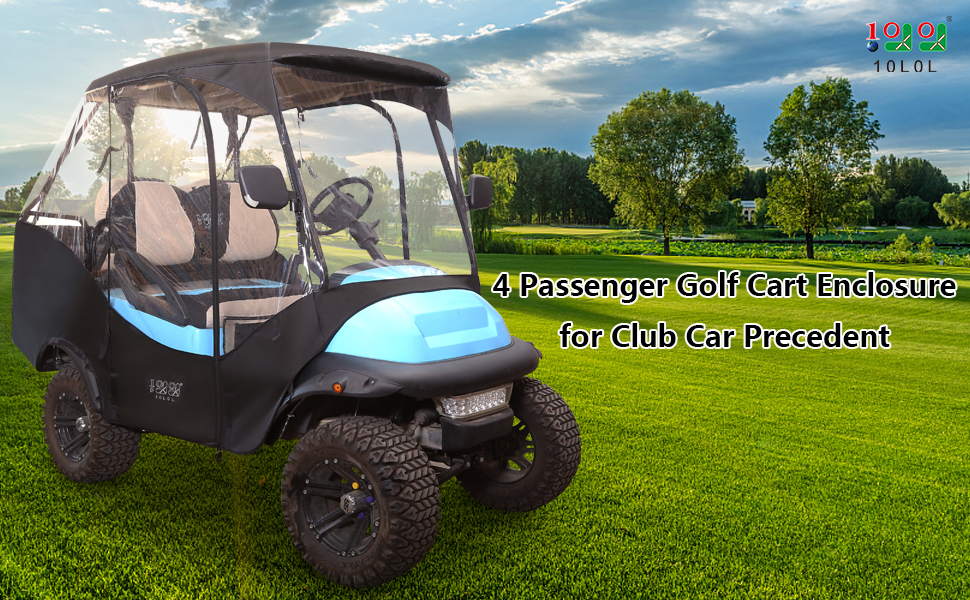 Why do You Want to Install an Enclosure on Your Golf Cart?
An enclosure protects from heavy weather and other hazards while allowing the golf cart to be used normally. You might need to install an enclosure on your golf cart for two reasons.
The first reason is safety. An enclosure can play a certain buffering role in reducing possibility of injury of driver and passengers in unexpected accident. Moreover, after adding a golf cart enclosure on your cart, you are still allowed to drive your cart onto the road.
Another reason to install an enclosure on your golf cart is to protect the vehicle from heavy weather conditions. Golf carts are typically exposed to all sorts of weather conditions, ranging from rain and snow to extreme heat and cold. If your golf carts have enclosures, they can have all-weather protection. For example, it can prevent bird droppings, leaves, dust, and scratch in spring, prevent sunscreen and UV proof in summer, also can resist leaves, dust, and small animals in autumn, and finally, it can still protect your car from snow, ice, and frost in winter.
Factors to consider when buying the Golf Cart Enclosure
When buying a golf cart enclosure, there are a few factors to consider. Depending on the use of the golf cart, the enclosure may need different features. Here are some of the most important factors:
-Golf cart size: Ensure your golf cart model before ordering.
-Functionality: Some enclosures are specifically made for golf cart use and offer more protection from heavy weather and damage.
-Price: The price of an enclosure is usually proportional to its features and protection. You should own some cost-effective enclosure instead of bad-quality products.
-Warranty policy: If your golf cart's enclosure has some problem, a warranty policy will be useful. For example, 10L0L provides a 1-year free replacement and money back. Don't hesitate to get in touch with it to replace it in time if there is any product defect. Therefore, you can purchase with confidence.
Conclusion
You've come to the right place if you're in the market for a new golf cart enclosure. In this article, we outline everything you need to know about golf cart enclosures and which one is best for your needs. So whether you're considering a custom-built golf cart enclosure or just looking for a ready-made option, 10L0L should be your most reliable partner, a global online-sale brand focusing on golf cart parts and accessories, mainly for Club Car, EZGO Golf Cart, and Yamaha. Their products are of high quality and performance, outstanding service, and competitively factory-direct-sale price, exported worldwide. All in all, 10L0L is a trustworthy golf cart parts manufacturer, which you can't miss.